The Breastfeeding Family Friendly Communities (BFFC) initiative is a community-wide program to impact Health Equity! By the time our grandchildren are born, every family that wants to breastfeed will receive education and support that does not undermine the family's decision, but rather enables the family to breastfeed for as long as that family chooses.
Creating a New Community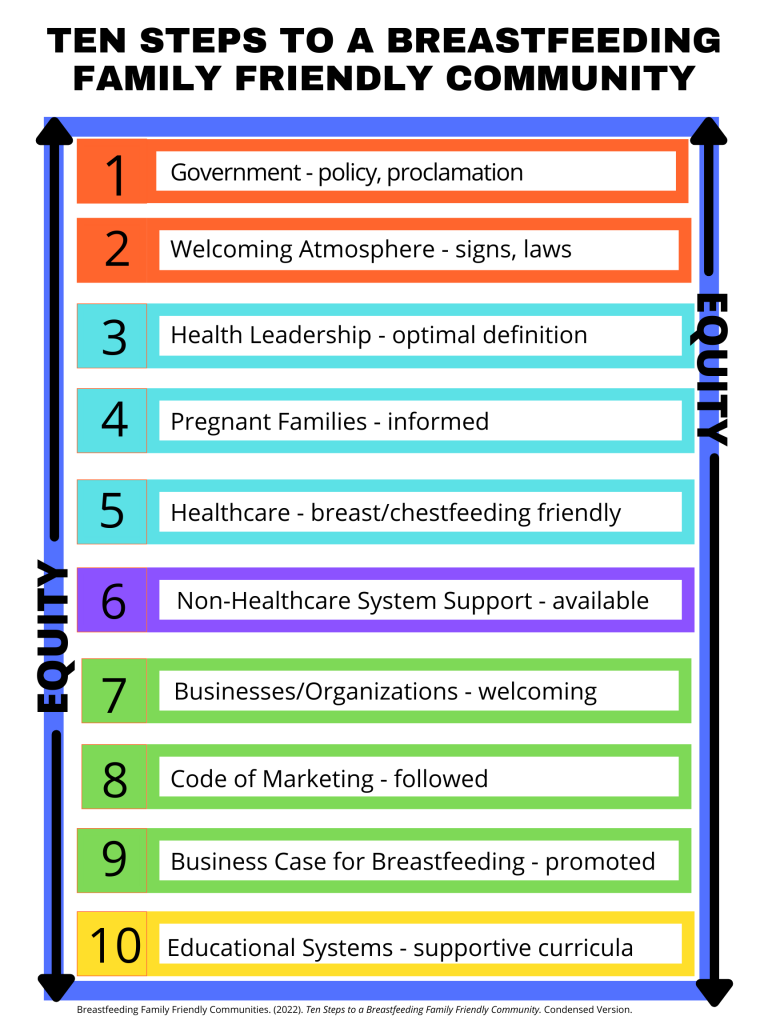 How BFFC might start in your Community:
(The initiative might) Begin with just two people in your community committed to diversity and supporting families. In Durham, NC, BFFC began with:

One Lactation Consultant.

Establish that no one else is doing this work in your local community.
Look into community interest; breastfeeding advocates might need help getting started.
Learn how the community feels about this work.
Realize that it will take time to earn community trust.
Form a Designating Group: After one year most groups have a small number of individuals who are regularly coming to meetings and are completing the tasks.
Begin talking to parent support organizations about meeting the needs of more diverse groups of people.
File a Proclamation: Proclaim your community as Breastfeeding Family Friendly once every year
Proclamation examples:
Beginning the Process
Advocating for Breastfeeding Family Friendly policies in your community:
Bring together stakeholders from diverse backgrounds, organizations, agencies, and institutions.
Build Health Equity into the Foundation: Racial, ethnic, socioeconomic, geographic, academic/professional. Stakeholders include community members with different backgrounds, races, ethnicities, social experiences, religious affiliations, ages, gender identities, sexual orientations, physical needs, personalities, political beliefs, opinions, heritages, and life experiences including families that were unable to meet their planned breastfeeding goals.

Consider creating digital forms in order to generate a Breastfeeding Advocates Directory (see the template).
Invite potential community stakeholders.

You might consider local childbirth organizations (e.g., doulas), lactation service organizations, WIC staff in the US, childcare providers.

For example, Durham NC reached out to Mom's Rising, a national family advocacy group; Suckle, an organization specializing in supporting women of color; and many others.

Run a Facebook/email campaign to find community stakeholders.
Schedule online, or in-person (when possible), meetings, e.g., Lactation consultants, parent support groups, nursing mothers.

Meet with agencies and organizations in the community.
Assess, reassess, and grow. The BFFC Team continues to reach out to important community groups, such as, the LGBT+ community, medical professionals from the Hospital(s), City/Town council members.
Continuing the Process
Develop a Stakeholder Growth Goal for each year. Here are the suggested BFFC Team goals for year two:

Find 10 highly dedicated individuals before the end of the year who are willing to do work and show up to all of the meetings.
Add representatives from five more organizations in your community in the next 12 months, who are engaged in our process. Engagement is defined as attending one out of every three meetings and reading/responding to emails from the group.

Work toward meeting the goals.

Create a list of organizations that work with families/children in the community or surrounding areas; learn what all the other groups do to help breastfeeding families; email the current organizations in order to add those who are not on the list (see sample template).
Participate in community activities: Events, local Facebook and other social media groups, health fairs.
Attend all the local breastfeeding coalition meetings at least once during the year.
Work with local health community leaders to hold a symposium to promote engagement in BFFC.

Review and re-review templates and formulate a digital outreach plan for connecting with community stakeholders at top of page (Learning Objective).
Build on recommendations for BFFC from health care.

Provide more education for healthcare providers and families.
Create a breastfeeding support plan (like a birth plan for breastfeeding).

Support the Breastfeeding Friendly Child Care Designation.
Focus on Sustainability.

Seek funding opportunities: Be mindful of how we grow long term.
Funding is needed to be sustainable, and there is a lot of work to be done.
Some advocates may need to be paid in order to truly attract a diverse group of stakeholders.
Commonly Requested Templates
By implementing Breastfeeding Family Friendly Communities (BFFC) practices in other communities, we will create a more breastfeeding and family friendly world, one that directly impacts health equity.