We are excited to share an invitation from #RVAbreastfeeds, an enthusiastic Breastfeeding Family Friendly Community (BFFC) team in Richmond, Virginia, that is moving its community towards the Breastfeeding Family Friendly Communities designation. Do you live or work or spend time in the Richmond, Virginia, area and want to learn more about this important initiative to support breastfeeding families in your community? Or are you and your BFFC team just starting your BFFC journey in your own community and want to gather ideas for moving forward? The #RVAbreastfeeds meeting can provide a great source of inspiration, encouragement, and ideas. Check it out!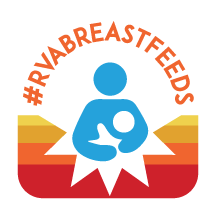 You're Invited!
Breast/chestfeeding is a critical component of maternal and infant health. If 90% of US birthing parents could achieve optimal breast/chestfeeding, we could prevent 2619 premature maternal deaths and 721 child deaths, and save $17.4 billion in maternal health costs and $13 billion in child health costs each year.
Yet 60% of US birthing parents do not breast/chestfeed for as long as they intend, let alone achieve the internationally recommended milestone of six months of exclusive breastfeeding. Barriers include cultural norms, lack of paid family leave and workplace support, lack of culturally relevant care providers, and formula advertising, to name just a few.
In July, Nurture received a three year grant to build a movement for achieving the Breastfeeding Family Friendly Community designation for Richmond. Our breastfeeding advocacy arm, #RVAbreastfeeds, has already achieved some foundational steps, such as a mayoral proclamation, and the support of Richmond and Henrico's Public Health Director, Danny Avula. 
If you are would like to participate in our efforts to create community that truly supports childbearing families, we invite you join us next Wednesday. Together we will share our passion for maternal/infant health and collectively crowdsource the Top 100 Partners we need to engage to move Richmond toward becoming a Breastfeeding Family Friendly Community.
For a little inspiration, please take a look at the articles [below]. If you don't have time, no worries – just come as you are! You'll be joining a fabulous group of citizens that are creating the change we want to see in our community. #RVAbreastfeeds Meeting
November 18
4:30 – 6:00 pm
Location: Your Living Room
Click here to register!
For more information, contact:
Leslie Lytle, Executive Director, Nurture,
and #RVAbreastfeeds Coordinator
Leslie.Lytle@nurtureRVA.org
804-612-6366
INSPIRATION:
USBC's Collective Impact Webinar: Top 100 Partners
Model Policies to Prevent and Respond to Family Responsibilities Discrimination at Work