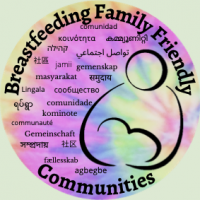 It's an After Party…and You're Invited! September 8th!
...After the excitement!
...After the education and awareness-building!
...After the celebrations! 
...After the events! 
...After the social media posts! 
...After the proclamations! 
...After the...well you get the idea!
Join Breastfeeding Family Friendly Communities for a Virtual Meet & Greet! 
When: Thursday, September 8, at 1:00pm EDT
Where: https://meet.google.com/sqr-wscg-owb
Just thinking about the Breastfeeding Family Friendly Community journey? Or are you ready to take the first Step to create a welcoming and safe environment for breastfeeding, chestfeeding, and human milk feeding families in your community? Have you already taken some important first Steps on your way to completing the Ten Steps to a Breastfeeding Family Friendly Community? Or are you feeling overwhelmed about the next Steps? We hear you! This event is for You!!
(Re)Discover the Ten Steps to a Breastfeeding Family Friendly Community!
Gather ideas for expanding your program!
Share your goals for centering equity, inclusion, and universal access!
Explore:

Pathways to begin the journey of advocating for chest/breastfeeding family friendly government policies in your community
Ideas for working with health care agencies and providers
Ways to support childcare providers and educational systems to provide breastfeeding friendly practices
Other areas of interest and challenge in your community.

Ask questions!
We look forward to seeing you on September 8th at 1pm EDT. We can carry on the National Breastfeeding Month 2022 proclamation!