Community. It's where we live, work, and play. We connect with others in the community. Community is at the heart of the services, resources, and support systems for breastfeeding, chestfeeding, and human milk feeding families, and the importance of a welcoming community cannot be overstated for a family to meet its infant feeding goals.
Breastfeeding is recognized globally as optimal infant feeding. The World Health Organization and health organizations and academies globally recommend exclusive breastfeeding until the middle of the first year, when complementary solid foods are introduced, with continued breastfeeding for at least one to two years and beyond. In the U.S. most families want to provide this start for their infants, based on the initiation rates after birth in the hospital. However, many stop in the early days, weeks, and months after leaving the hospital…long before six months.
For decades, advocates have recognized the importance of community support in the successful initiation and duration of chest/breastfeeding. The Report on the Surgeon General's Workshop on Breastfeeding and Human Lactation, convened in 1984 by the Surgeon General Dr. C. Everett Koop, stated unequivocally – "Certain barriers at home, work, or school, or in the health care delivery system or the community can negatively influence both a mother's decision to breastfeed and [the] breastfeeding experience. The promotion of breastfeeding, a national priority, can be achieved through changing community views." Dr. Koop further recognized that, although breastfeeding rates were rising, those numbers were not increasing for many groups, including families that have been historically and continue to be marginalized – Black and Brown families, families with less income, families with less education. And even when breastfeeding is initiated, rates dropped quickly in the early weeks after birth. Six recommendations directly and indirectly spoke to the community's role in protection, promotion, and equity in breastfeeding support:
1) Improve professional education in human lactation; 
2) Develop public education and promotional efforts, including education of public officials because "some recommendations are impossible without legislation"; 
3) Strengthen support in the healthcare system;
4) Expand research; 
5) Develop support services in the community; and
6) Initiate a national effort to support lactating employees.
These recommendations, along with follow-up reports in 1985 and 1991, placed breastfeeding and human lactation back as the norm for infant feeding. The recommendations also expanded on the importance of lactation support beyond the hospital to ensure that families are welcomed and supported in their local communities.
In 1990, policy makers from thirty countries adopted the landmark document – Innocenti Declaration on the Protection, Promotion, and Support of Breastfeeding – which provided strong target actions to reverse the global decline in breastfeeding rates and to protect, promote and support breastfeeding as optimal feeding for infants and young children. The Innocenti Declaration recognized that families have a right to breastfeed and that governments and organizations are called to support these basic (human) rights and eliminate barriers in the workplace and community.
Empowering families requires

…a responsive and comprehensive communications strategy involving all media and addressed to all levels of society…obstacles to breastfeeding within the health system, the workplace and the community must be eliminated.

Innocenti Declaration on the Protection, Promotion, and Support of Breastfeeding
The 2000 Surgeon General's Blueprint for Action on Breastfeeding was well-titled. It was a comprehensive plan or blueprint to increase breastfeeding rates through education, training, awareness, support, and research. The Blueprint recognized that improving breastfeeding initiation and duration rates required the collaboration of many stakeholders – federal agencies, state and local governments, communities, health professional organizations, businesses, advocacy groups and researchers – to better protect, promote, and support lactating families.
Above all, we must send a message that breastfeeding is normal, desirable, achievable and a natural part of community life.

David S. Satcher, M.D., Ph.D., Surgeon General
These recommendations and blueprints have provided the strong community foundation for the 2011 Surgeon General's Call to Action to Support Breastfeeding! With a set of twenty action steps, the Call to Action encompasses the width and breadth of the community from the family to healthcare, from marketing to community advocate support, from employment to childcare, from research to national public health initiatives. And importantly, this document provides direction and instructions for the Centers for Disease Control and Prevention and all of us to protect, promote, and support breastfeeding!
I have issued this Call to Action because the time has come to set forth the important roles and responsibilities of clinicians, employers, communities, researchers, and government leaders and to urge us all to take on a commitment to enable mothers to meet their personal goals for breastfeeding."

Regina M. Benjamin, M.D., M.B.A., Vice Admiral, U.S. Public Health Service, Surgeon General
The Breastfeeding Family Friendly Community (BFFC) initiative has its roots in a request from the World Alliance for Breastfeeding Action (WABA) to develop a community breastfeeding program to strengthen breastfeeding support and normalization. With encouragement from WABA and building on the decades of work that highlighted the importance of community support, BFFC was first piloted in Chapel Hill and Carrboro, North Carolina. BFFC nurtures a more breastfeeding, chestfeeding, and human milk feeding family friendly community by advocating for policies and practices that increase awareness of the role of the community to support optimal infant feeding. The initiative worked with a vision to improve lactation duration by developing a set of steps to guide communities to welcome lactating families in all the spaces and places in which families connect with others in the community. The Ten Steps to a Breastfeeding Family Friendly Community (Ten Steps) approach complements and broadens the community scope of the World Health Organization (WHO) and UNICEF guidelines. The Ten Steps (to a Breastfeeding Family Friendly Community) foster continuity of care from pregnancy to birth to the family's intended time to wean by building awareness of the community's role in supporting families and providing measures and approaches to build a welcoming environment. In 2018, Breastfeeding Family Friendly Communities of Durham, now Breastfeed Durham, became the second community to begin the Ten Steps journey, and in 2020, the Chapel Hill and Carrboro pilot grew to include the entire county. Currently, Breastfeeding Family Friendly Communities provides ongoing technical assistance and support to active communities in four states and 11 communities and has provided preliminary support to additional communities to explore the Ten Steps.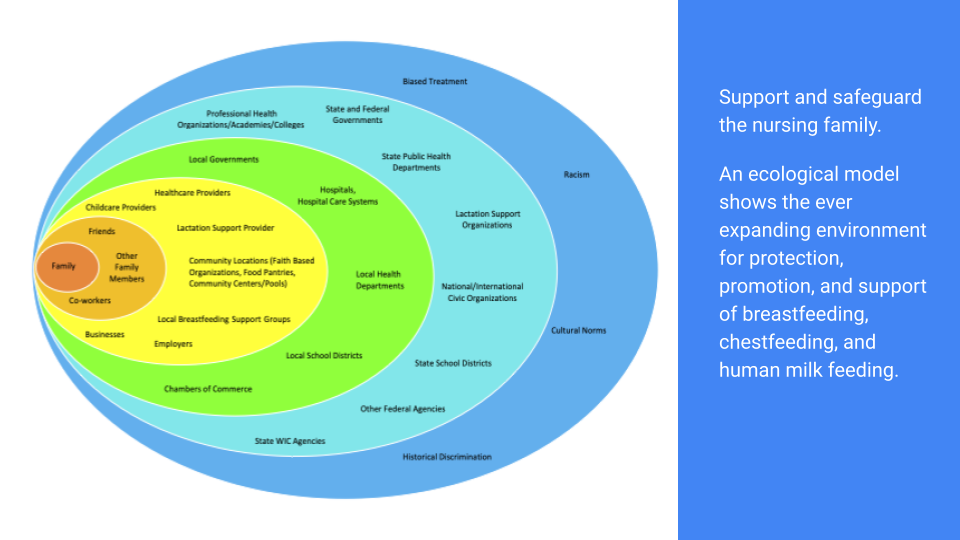 BFFC views the community through an ecological lens.
The ecological model illustrates the many layers of community. Starting with the family, the community radiates out from local organizations, businesses, and groups to state, national, and international policies and practices, all of which are surrounded by an outside layer that reminds us about the overarching systems and structures that are impacting equity in lactation support and resources, especially for Black and Brown families.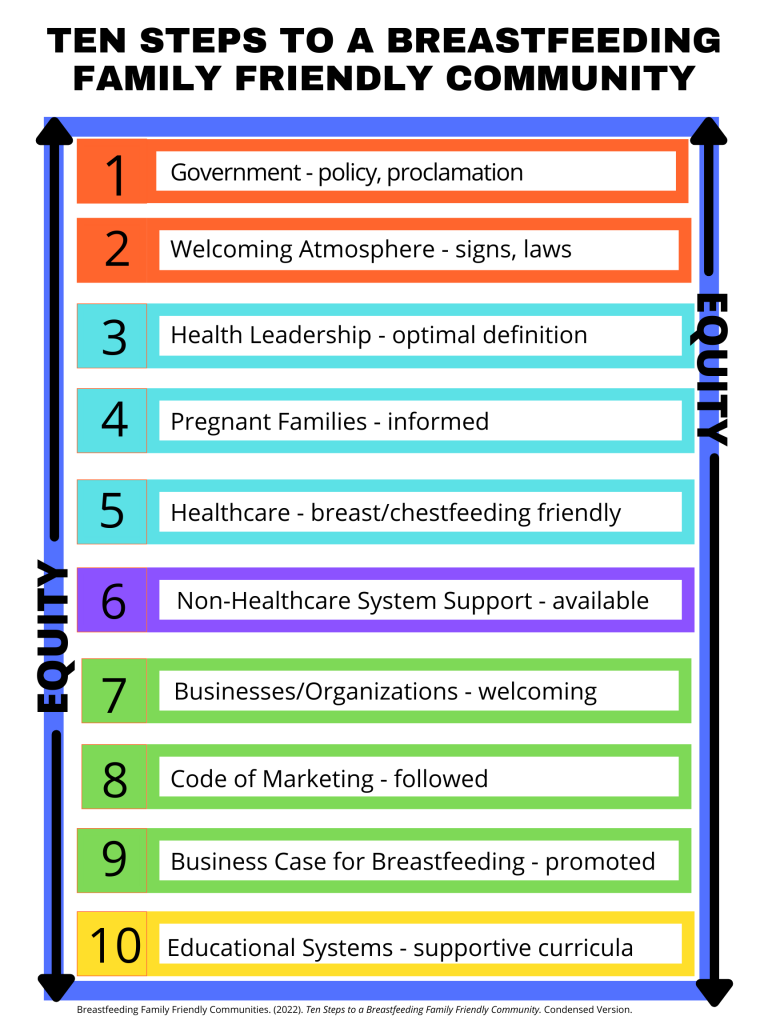 The Ten Steps to a Breastfeeding Family Community is the foundation and starting off point for all that we do to support communities to promote equitable lactation support and welcome for families. In one page, it broadly targets all the places and spaces in the community where families live, work, play, and connect with services and resources. The BFFC Global Criteria builds on the Ten Steps for Breastfeeding Family Friendly Communities, offering approaches and measures to support a community to complete the Ten Steps.
LEARN MORE

Ten Steps to a Breastfeeding Family Friendly Community (pdf)

Global Criteria (pdf)

Self-Appraisal: Approaches and Measures (webpage)

Frequently Asked Questions (webpage)